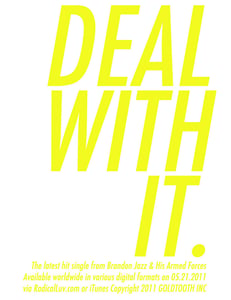 $

12.00
For full press release, please visit our blog.
This limited edition presale includes a copy of the Radical Luv/Vultures 7″single, fan club membership card (includes access to mp3′s, videos, ringtones, etc.), and a handmade "Deal With It" t-shirt, screenprinted by Brandon Jazz Himself.
These special packages are limited to 25 pieces, $12 USD, and only
available through 5/20. Orders will ship on 5/20 and all recipients will be emailed a high quality mp3 of "Deal With It,"
along with a high quality version of the video, a day earlier than the rest of the Western World.
Email info@brandonjazz.com for additional info.